Thank You from Superintendent Dr. Matt Wayne
Dear HUSD Community,
The end of the 2021-22 school year also brings to a close my service to the Hayward Unified School District. It has been an honor to be a leader in this community for the past ten years, six of them as your superintendent. While I am starting a new adventure in another district, I am very excited about HUSD's future. We just broke ground on the Hayward Unified Performing Arts Center, we are modernizing Winton, Lorin Eden, and Treeview, and there will be numerous other Measure H projects happening this summer. We are expanding academic programs and social-emotional supports from our new literacy plan to additional counseling support. And we are broadening our dedication to science, technology, engineering, arts, and mathematics through new STEAM facilities and curriculum. Our commitment to equity and anti-racism and improving outcomes for all students will continue to be our focus. I will miss seeing how the district emerges from the challenges of the past several years, ultimately stronger and poised for even more success.
What I will miss the most is all of you. This is a wonderful community. We have classroom teachers who go above and beyond to ensure students are learning. From counselors to EL Specialists, nurses to psychologists, we have certificated staff who partner with colleagues and families to support our students. Our amazing classified staff keep our schools clean, safe, and welcoming. We have a leadership team at sites and in the district office that is committed to providing the best possible support to our front-line educators and staff. Our families come out for their students and schools. I will miss the family meetings, Halloween parades, and spirit days that bring our community together.
Most of all, I will miss our students. Hayward students have shown their resilience, determination, and good humor over this incredibly challenging school year. Every time I visit a school, meet with student leaders, or see them showcase their talents, I am so impressed by their intelligence and accomplishments. A few years ago the Board of Education held a workshop on educational equity. Our student board members participated in the conversation. Their comments and reflections inspired all of us and helped us realize what we needed to do to better serve our students. I still use a quote from one of the students to help define what we mean by equity. It is moments like these that I treasure as an educator and advocate for our students. Thank you for allowing me to be a part of this special community for so long.
Sincerely,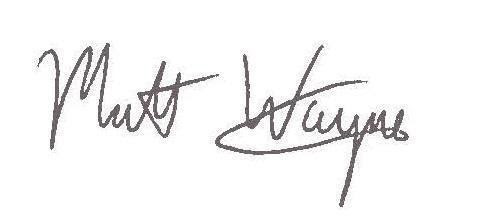 Matt Wayne, Ed.D.,
Superintendent
Estimada comunidad de HUSD,
El final del año escolar 2021-22 también pone fin a mi servicio al Distrito Escolar Unificado de Hayward. Ha sido un honor ser un líder en esta comunidad durante los últimos diez años, seis de ellos como su superintendente. Aunque estoy empezando una nueva etapa en otro distrito, estoy muy entusiasmado con el futuro de HUSD. Acabamos de iniciar la construcción del Centro de Artes Escénicas de Hayward, estamos modernizando Winton, Lorin Eden, y Treeview, y habrá otros numerosos proyectos de la Medida H este verano. Estamos ampliando los programas académicos y los apoyos socio-emocionales de nuestro nuevo plan de alfabetización para el apoyo de asesoramiento adicional. Y estamos ampliando nuestra dedicación a la ciencia, la tecnología, la ingeniería, las artes y las matemáticas a través de nuevas instalaciones y planes de estudio STEAM. Nuestro compromiso con la equidad y la lucha contra el racismo y la mejora de los resultados para todos los estudiantes seguirá siendo nuestro enfoque. Echaré de menos ver cómo el distrito emerge de los desafíos de los últimos años, finalmente más fuerte y preparado para un éxito aún mayor.
Lo que más echaré de menos es a todos ustedes. Esta es una comunidad maravillosa. Tenemos maestros que van más allá para asegurar que los estudiantes estén aprendiendo. Desde consejeros a especialistas en EL, enfermeras y psicólogos, tenemos personal certificado que se asocia con colegas y familias para apoyar a nuestros estudiantes. Nuestro increíble personal clasificado mantiene nuestras escuelas limpias, seguras y acogedoras. Tenemos un equipo de liderazgo en las escuelas y en la oficina del distrito que está comprometido a proporcionar el mejor apoyo posible a nuestros educadores y personal de primera línea. Nuestras familias salen por sus estudiantes y escuelas. Echaré de menos las reuniones familiares, los desfiles de Halloween y los días de espíritu que unen a nuestra comunidad.
Sobre todo, echaré de menos a nuestros estudiantes. Los estudiantes de Hayward han demostrado su resistencia, determinación y buen humor durante este año escolar increíblemente difícil. Cada vez que visito una escuela, me reúno con los líderes estudiantiles, o los veo mostrar sus talentos, estoy tan impresionado por su inteligencia y logros. Hace unos años, el Consejo de Educación organizó un taller sobre la equidad educativa. Nuestros estudiantes miembros de la Mesa Directiva Estudiantil participaron en la conversación. Sus comentarios y reflexiones nos inspiraron a todos y nos ayudaron a darnos cuenta de lo que teníamos que hacer para servir mejor a nuestros estudiantes. Todavía utilizo una cita de uno de los estudiantes para ayudar a definir lo que entendemos por equidad. Son momentos como estos los que atesoro como educador y defensor de nuestros estudiantes. Gracias por permitirme formar parte de esta comunidad especial durante tanto tiempo.
Atentamente,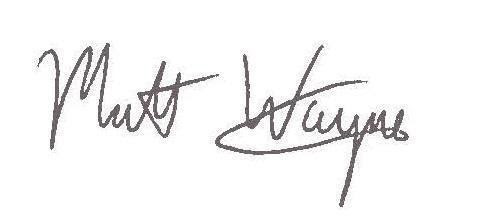 Matt Wayne, Ed.D.,
Superintendente